About Emma
Emma Pooley is a triple Olympian, five-time world champion, and holds a doctorate in engineering. Her success is fuelled by home-made oat-based nutrition.
After taking up road cycling in her twenties Emma raced to the very top of the sport, winning the time trial rainbow jersey, an Olympic medal, and multiple stage races and world cups. She was known for her dedicated teamwork and climbing prowess. Since retiring from cycling she has gone on to win the iconic Alpe d'Huez triathlon as well as world championship titles and medals in duathlon and trail running.
10
Olympic World & Commonwealth medals
4x
LD Duathlon World Champion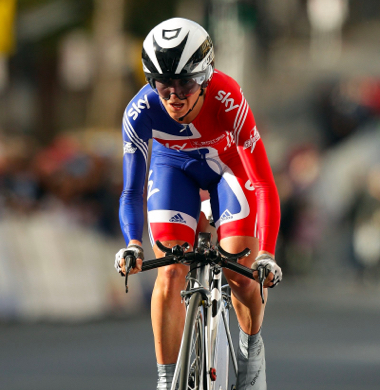 2010
Time trial World Champion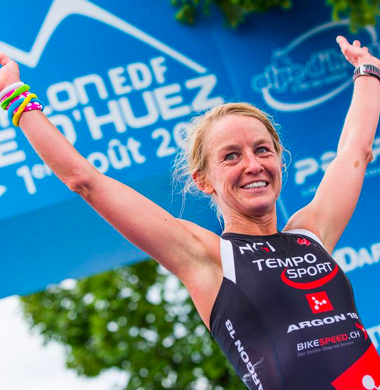 2015
Alpe D'Huez Triathlon Champion
Background

Thanks to her climbing prowess on the bike, Emma has 6 World Cup victories and 7 stage race wins to her name as well as medals at Olympics, Commonwealth Games, and a World Champion rainbow jersey. She earned a reputation as an outspoken campaigner for more gender equality in road cycling. After a cycling career spanning 9 years, Emma went back to multi-sport racing - competing in long distance triathlon, duathlon, cycling, and running events. She won the long distance duathlon world championship for 4 years in a row, from 2014 to 2017, as well the prestigious triathlons of Alpe d'Huez, Embrunman, and Swissman.
After her retirement from professional sport in 2018, Emma spent a year as a presenter at the YouTube channel GCN. In 2019 she returned to living and working in Switzerland, where she has been resident since moving to Zürich in 2005 for her doctorate in engineering. She continues to race in mountain running and ultracyling, and is writing an autobiographical recipe book to share her passion for eating real, tasty food in sport.
Emma Jane Pooley (born 3 October 1982 in London) grew up in Norwich, UK. At school she competed in rowing, athletics, and cross-country running. From 2001-2005 Emma studied Mathematics and then Engineering at Cambridge University.
It was here at university in 2003 that she started cycling after suffering a running injury. Initially competing in time trials and age-group triathlon, Emma entered her first cycling road race in March 2005.
She graduated from Cambridge in 2005 with a first class degree in Engineering, BUSA champion medals in cycling time trials, and sporting Blues in cross-country running, triathlon, and cycling.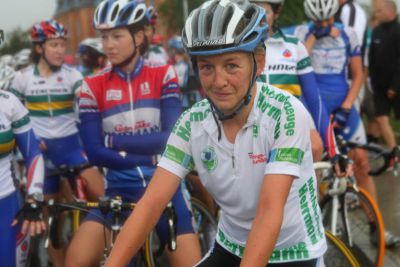 Early years in cycling

After a surprise fourth place in the British national road championship in June 2005, Emma was signed by Team FBUK to ride the Tour de Bretagne.
In August 2005 she first donned a Great Britain jersey, to race for the national team at the Newport UCI Road World Cup. She went on to represent Great Britain in the 2005 UCI World Championship road race, where she crashed, suffered concussion, and did not finish - a disappointing setback.
In 2006 she continued to race for Team FBUK occasionally in Belgium, alongside working full-time as a research assistant at ETH Zürich. Lacking both success and enjoyment in flat road racing, she returned her focus to amateur running and triathlon. A transformative decision was to spend January-March 2007 on secondment at the University of West Australia in Perth, where she found she enjoyed the competitive group riding culture.
Emma returned from Australia and signed for the Switzerland-based Team Specialized Designs for Women. With Team Specialized D4W she enjoyed her first international success: winning stage 3 and the climber's jersey at the Thüringen Rundfahrt after an incredible 70km solo breakaway. She was honoured to receive the Amy Gillett Award at Thüringen for her courageous racing.
At the Grande Boucle Féminine (the daughter race of the historic Tour de France Féminin) Emma rode away from the field on the Col du Tourmalet, only to be caught again on the descent, but still earned a respectable 3rd place on the general classification.
In these races she first demonstrated her aptitude for climbing and long solo breakaways, which were to become the recognisable trademark of Emma's style of racing – but also her fear of descending, which took years to conquer. Emma was selected to represent Great Britain at the 2007 UCI Road World Championships in Stuttgart, finishing 9th in the road race and 8th in the time trial. With these results Emma demonstrated her potential for success at the highest level of international cycling, and the top-10 placing in the time trial qualified one place for Great Britain at the Olympic Games the following summer.
In 2008, Emma continued to combine part-time academic research with racing for Team Specialized Designs for Women. In March that year at the Trofeo Alfredo Binda World Cup in Italy, she broke away on a climb and held off a world class peloton for 50km to ride solo to victory. This earned her the right to wear the World Cup leader's jersey at the next race in the series, the Tour of Flanders. She came 2nd at the national road championship and won a stage of the amateur men's race Ras de Cymru in Wales. Racing with the support of the Great Britain national team, she won the Tour de Bretagne: her first stage race victory. She finished 23rd in the Olympic road race in Beijing, where she rode in support of Nicole Cooke's successful gold medal bid. In the time trial two days later, Emma took the silver medal behind American Kristin Armstrong. A gruelling but rewarding year resulted in her first olympic medal and a step change towards more support as a pro athlete.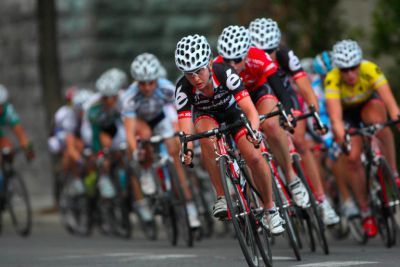 Turning Pro 2009

Emma signed her first professional contract in 2009 with the Cervélo Test Team, after her previous team disbanded.
Early season crashes and another concussion set her back but she won the Grand Prix Costa d'Etrusca, and rode in support of her teammate Claudia Häussler's victories at the Tour de l'Aude and the Giro d'Italia Femminile. At the UCI Road World Cup in Montreal, Emma attacked at the starting gun and broke away to ride the entire race solo to victory – an unprecedented feat in women's cycling.
Emma won the last ever edition of the Grande Boucle Féminine – the remains of the defunct women's Tour de France. Later that year she also won the UCI road World Cup in Plouay, displaying an increasing tactical maturity that she was learning through her hard work for teammates. She won her first national title at the British time trial championship.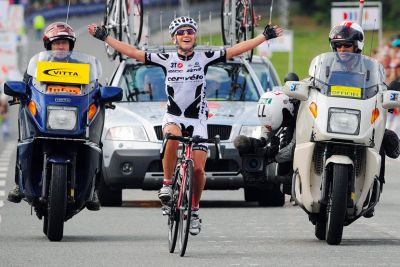 Consolidating success

The 2010 season with Cervélo Test Team was probably Emma's most successful as a cyclist. Early in the season, winning the famous Belgian classic the Flèche Wallonne World Cup gave her a new confidence.
This set her up for a series of wins at one-day and stage races including the Tour de l'Aude – one of the hardest and most prestigious in women's cycling, never before won by a British rider. She won both time trial and road race British national titles, and topped the season with victory at the UCI Time Trial World Championships in Geelong, Australia.
In 2011 the Cervélo Test Team was taken over to become Team Garmin Cérvelo. Emma won the Trofeo Alfredo Binda World Cup – again in a solo breakaway. She then suffered a broken collarbone but returned later in the season to win the time trial stage of Bira-Emakumeen in Spain, a mountain stage of the prestigious Giro Donne (the women's Giro d'Italia) and the overall classification at the Tour de l'Ardèche. Her bronze medal in the UCI Time Trial World Championships in Copenhagen was impressive in demonstrating that she was also competitive on flat, technical courses: becoming a more versatile cyclist and expanding her already respected profile as a pure climber.
The Garmin Cervélo women's team was discontinued in 2012 by the men's team management, and Emma raced for the Dutch team AA Drink-Leontien. She again finished 2nd in the general classification of the Giro Donne. At the 2012 London Olympics she finished 6th in the time trial and rode in support of Elizabeth Armitstead's silver medal in the road race. She successfully defended her title at the Tour de l'Ardèche, including 2 stage wins. At the end of the cycling season, Emma ran her first marathon in Luzern, in a time of 2:55:36.
2013 saw Emma concentrate her efforts on completing her doctoral thesis. She raced with the small, non-professional Bigla Cycling Team whilst also returning to triathlon and running. She showed aptitude at long-distance multi-sport events, winning the inaugural Swissman Xtreme Triathlon and finishing 6th in the prestigious Jungfrau Marathon. She won the Lausanne marathon in a time of 2:44:29. On the bike, she won the inaugural Tour du Languedoc-Roussillon and two stages of the Tour de Feminin Czech stage race.
In 2014, Emma returned to professional cycling with Lotto-Belisol Ladies' Team. She regained her title at the British national time trial championship, following this with the mountains classification and three stage wins at the Giro Rosa (the renamed Giro Donne). She continued to combine triathlon with cycling, with podium finishes at Challenge Philippines and Rapperswil 70.3.
In order to concentrate on multi-sport events, Emma retired from professional cycling on 3rd August 2014 on a high, displaying her trademark grit and determination, achieving silver medals in both the road race and time trial at the Commonwealth Games in Glasgow. Just one month later, on 6th September, she won the Zofingen Powerman long-course duathlon world championship - breaking the course record by 16 minutes.
From 2015 Emma has been supported by sponsorship from the Norwegian Geotechnical Institute (NGI). That year, she successfully transferred to triathlon and won Challenge Philippines, the Alpe d'Huez long-distance triathlon, Embrunman, and defended her world champion title at Powerman Zofingen. At the start of 2016 she won Powerman Malaysia, came second at Rapperswil 70.3 behind Daniela Ryf, and then put multi-sport on hold to race with the Great Britain Cycling Team in an attempt to make selection for the Rio Olympics. In September 2016 she again successfully defended her world champion title in long-course duathlon at Powerman Zofingen, achieving an unprecedented three consecutive wins.
In 2017 Emma won the Ventouxman Triathlon and the European long-distance duathlon championship, as well as defending her titles at Powerman Zofingen and Taiwan KOM. She also returned to competetive running with a win a the infamously tough Inferno Halfmarathon (2100m of altitude gain).
Off the bike

Emma graduated from the University of Cambridge in 2005 with a first class degree in Engineering, and then moved to Switzerland to take up a Marie Curie research fellowship at ETH Zürich under the supervision of Sarah Springman OBE.
In 2013 she finally completed her Doctorate of Science in geotechnical engineering. She received an honorary Doctorate of Civil Law from the University of East Anglia in July 2012, and an honorary PhD from the University of Strathclyde in July 2015.
Emma is a supporter of Amnesty International and World Bicycle Relief. She is an outspoken proponent of greater gender parity in cycling, and was one of the initiators of the "Le Tour Entier" pressure group, which campaigned for a women's race at the Tour de France (resulting in the creation of the one-day race "La Course" on the Champs Elysées on the final day of the Tour de France). She was a member of the UCI's Women's Commission in 2014 and was part of the Athlete Committee of UK Anti-Doping.
Emma lives in a village near Zürich in Switzerland. Her hobbies include ski mountaineering, gardening, foreign languages, and baking. She has a teapot collection and has saved one flower from every single bouquet she has ever won at a race. When she gets home, the first thing she does is make a decent cup of tea.